Highland Commons is located is Davis Square, Somerville, Massachusetts. Davis Square is both livable and culturally vibrant. A few steps and you can find great bars, a diverse selection of great, diverse dining selections, and wonderful coffee shops. There is also plenty of live music to be seen and heard.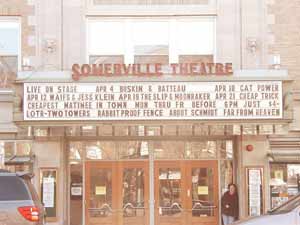 SOMERVILLE THEATER
One of the cultural bright spots of Davis Square is the Somerville Theater. They have some of the best films that are out and at the best prices. In addition to that they bring world class musicians to Somerville. In the winter of 2003 Bruce Springsteen played at the theater to rave reviews, and in 2009 Bono and the boys in U2 played here!
SEVEN HILLS PARK
There is a wonderful little park located behind the Davis Square T Stop. There you can learn about the history of Somerville through the histories of each of its Seven Hills. There are seven monuments with Seven individual stories. This also marks the route to the Alewife T station along a bike and walking path.
SHOPPING
You can take care of all of your shopping needs in Davis Square at some of our smaller groceries and butcher shops. If you need Organic foods, you will find a fantastic selection among our convenient and local grocers.
PORTER SQUARE
Porter Square is also nearby us down the street. If you like Japanese and Korean food you can't go wrong in Porter Square. There are numerous restaurants and ethnic stores in the Porter Exchange building. Click here to see a review of the Porter exchange scene. And don't just read about it. Go get dinner!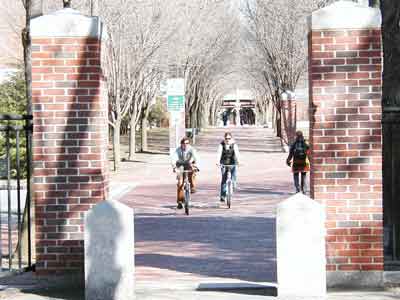 BICYCLING
And if you want to get away from it all, and go for a long bike ride, you can get on the path right behind our building. The path connects with the Minuteman bike Way at the Alewife T station and goes out to Bedford where you can continue on many different loops around Boston. For more information, stop into our local and one of Boston's premier bicycle shops, Ace Wheelworks.
UNIVERSITIES
Education and research are the backbone of Boston's economy. We are happy to be nestled in a spot where students or professors can have a comfortable life so they can focus on other things. The building is quiet and filled with wonderful respectful tenants and we like it that way.